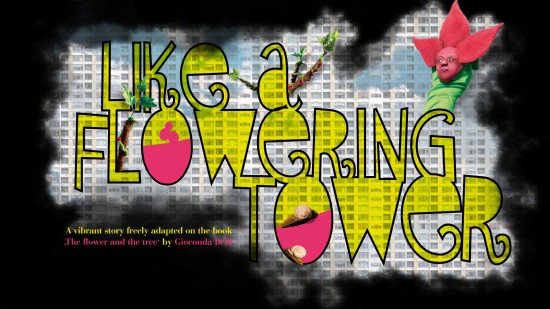 It's the tale of a juvenile Bougainvillea and an elder pine tree in the middle of a big city. Both together discover the wonders of life.
For the purpose of growth the curious, life-affirming vine needs the help of the thoughtful, lonesome conifer tree, whose perspective on life gets refreshed by the flower's serenity.
As time goes by both plants form a splendid symbiosis.
But due to the imbalance in their mutual give and take, the splendor demands a high price from one of them… It is necessary to get a sense of the balancing act between narrowness and freedom – like in every relationship.
"Like a flowering tower" is an interdisciplinary theatreplay involving elements of dance, masks and objects. Performed by puppeteer Julia Raab and actor Thilo Herrmann the play is inspired by the children's book "The flower and the tree" by Gioconda Belli.
Sponsorship
This play is a cooperation with ŻiguŻajg International Arts Festival for Children & Young People 2014 Malta sponsored by the German Embassy Valletta, Malta supported by E35 e.V. Leipzig, Germany.
Portfolio
Here you will find all informations about the performance in one document.
Portfolio: Like a flowering tower
Website
Everything in one place, on bluehenderturm.de!